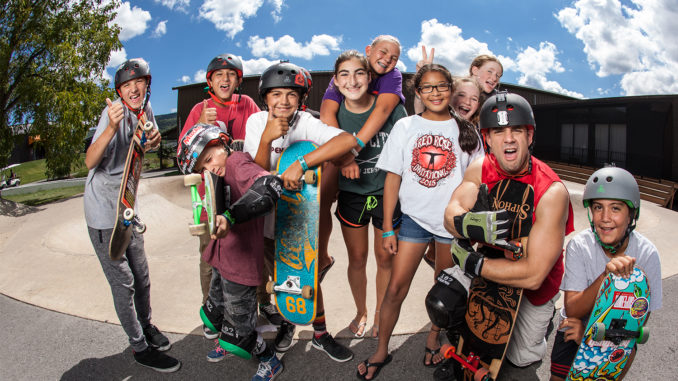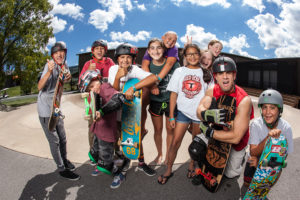 Nestled in the rolling hills of Penns Valley, Camp Woodward is certainly not hidden, having played an integral part in the upswing in popularity of extreme sports over the last few decades.
Hosting X Games for ESPN.
Enjoying a six-year run of a national reality television show.
Featured on 70 million packages of Lunchables.
And while the camp is also home to numerous Olympic gold medalists and X Games participants, it's also a beloved and safe training ground for beginners.
Basically, it's a 425-acre fantasy land for any kid, age 7 to 19, interested in gymnastics, action sports and even digital media.
Its offerings are always changing and growing to stay on the cutting edge.
In fact, owner Gary Ream will tell you, "We are the edge. Nobody's edgier than us."
Ream's office in the camp's office building is full of items that commemorate the history and success of Camp Woodward, such as toys from its toy lines, books that have been written about Woodward staff, and various memorabilia.
Woodward, he said, has been "a big part of the industry and history of what has happened."
He attributes its success mainly to how the staff keeps the campers at the center of all they do.
"Taking care of the kids," he said is the key, "and listening to them. They are our customers."
But it's also been about good marketing, and a lot of "love, sweat and tears," Ream said. "You have to be on your game every single year, then all of a sudden good things happen."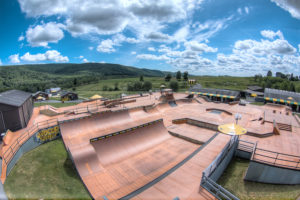 Camp Woodward, located about a 20-minute drive west of Mifflinburg on Route 45, near the tiny town of Woodward in eastern Centre County, began as a gymnastics camp in 1970 by Ed Isabelle, a gymnastics coach at Penn State University.
A former dairy farm, many of its original buildings have been renovated and are still in use — for example, the old farmhouse is home to camp offices, and the barn contains a gymnastics facility, cafeteria, coffee shop and rock wall.
But many of the changes wouldn't occur until Gary Ream and his father, Paul Ream, took ownership of the camp in 1977.
Gary Ream, an Aaronsburg native and 1976 graduate of Penn State, said that though he liked kids and sports, his main motivation to become involved with the camp at the time was "purely business."
Camp Woodward was still 100 percent gymnastics when they took over.
But then, in 1980, when the United States boycotted the Olympic games, Ream said, "We needed to look for alternative sports."
That's when they stumbled upon BMX racing, a sport that had become very popular in southern California. In 1982, it was added to Camp Woodward's offerings, and later evolved into BMX freestyle, which included dirt jumping and ramps.
"The spirit of that then took us into the late 80s, and into building all these ramps for boards with four wheels called skateboards," Ream smiled.
In the early 1990s, in-line skating "went young and aggressive," he said, and in 1995, ESPN started popularizing extreme sports through its X Games, at which point "all of our staff and campers became television stars overnight."
Ninety percent of the X Games participants were from Woodward, Ream said.
In 2000, Woodward was host to the BMX racing for the X Games, and has hosted a number of events for the station on the property since then.
The camp eventually expanded to Wisconsin, and now has two additional locations in California and one in Colorado.
Shortly after property was purchased in California for Woodward West in the early 2000s, Ream said, they began to get corporate sponsorship from companies such as Red Bull, Target, Playstation, Gatorade and GoPro.
In 2007, they began their own national reality TV show that aired on FUEL TV for six straight seasons.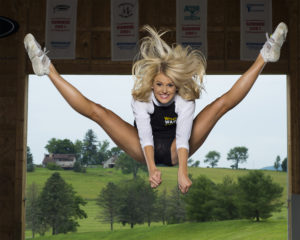 "Woodward was the site of progression," Ream said.
And it continues to be with ever-changing and additional programs. They currently offer programs including cheer, snowboarding, skiing, parkour, and more. The most recent offering is a full-fledged digital media center.
Gymnastics continues to be Camp Woodward's most popular program, making up 50 percent of the camp's operations.
The history and continued growth of Woodward, Ream explains, has always been about allowing the kids to "reach their fantasy."
The camp allows them to do that in a safe environment, complete with foam pits, air bags and resi pits.
It's a specialized camp with unique offerings where kids can go after their dreams. In this way, Camp Woodward is much different from just an ordinary summer camp.
"Kids come here with a passion," Ream said. "We give them a fantasy — a memory they are going to remember forever."