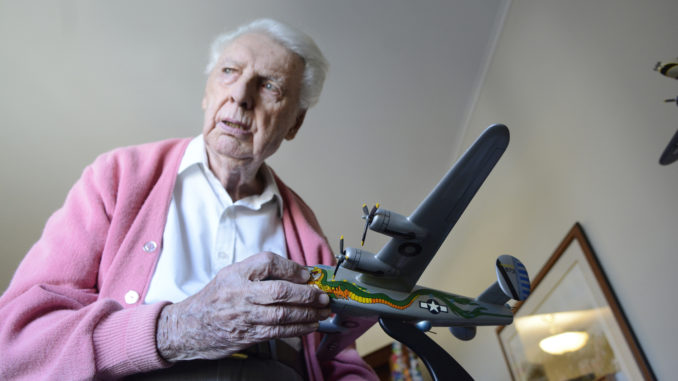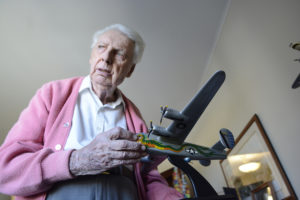 "Life has unusual turns," declared Joseph A. Diblin, a long-time Susquehanna Valley resident who, at age 99, ought to know.
A New Jerseyan by birth, Joe came to Lewisburg during the Great Depression to study at Bucknell University. As a professional pilot, among other things, he subsequently spent much of his life in, around – and above – the Valley. For many years, he lived in Lewisburg before moving to Nottingham Village Senior Living Community on the outskirts of Northumberland a decade ago.
"He's quite the conversationalist," said Barbara Spaventa, a Northumberland woman who knows him well.
Indeed, Diblin recently regaled an interviewer with a variety of stories of his early life.
In May 1937, for instance, Diblin, then 19, and some friends decided to go to the Naval Air Station at Lakehurst to watch the arrival of a famous German dirigible, the Hindenburg. They had no inkling they were about to witness one of the defining moments of the 20th century.
"We hitchhiked," Diblin recalled, explaining that the air station was only 20 miles from his hometown of Hightstown, N.J. "We used to go there fairly often."
The airship had left Germany three days earlier and had passed over Boston and New York City before flying down the New Jersey coast to the air station.
The boys watched in horror as the dirigible approached the landing field and suddenly burst into flames. "It burned brightly," Diblin said.
Joe and his friends watched as a number of people jumped from the flaming aircraft just before it crashed.
"One of my buddies started to cry," Diblin said. "It was a terrible sight."
Some of the passengers who jumped suffered fatal injuries when they hit the ground. In all, the disaster claimed 35 lives.
Being an eyewitness to such an event did little to diminish Diblin's passion for flying, which was just beginning to blossom. In fact, he had become involved in flying small airplanes while still in high school.
"I was about 14 or 15," he said. "We had an airport two miles out of town. I spent all of my spare time at the airport."
He pumped fuel in the planes, washed them and did whatever odd jobs that needed to be done.
"In return for that, the old flight instructor would give me a few minutes of flight instruction in a Piper Cub. God, I loved it," said Joe, a tall man with a full head of white hair.
Seventy years later, the now-retired aviator said that his favorite story involves a flight that he took as captain of a four-engine bomber late in World War 2.
At the time, Diblin was in charge of the flight instruction program for four-engine planes at Smyrna Army Airfield near Nashville, Tenn. "I loved those big tubs," he said.
One rainy day the weather was so bad that all planes at Smyrna were grounded. Even so, "the base commander called me on the phone. He said, 'Diblin, they want a B24 Liberator right now at Tullahoma Air Base. I don't know what the hell they want it for. I know the weather's bad so I'm not ordering you to go. I leave it up to you to decide.' He hung up."
Tullahoma was in a hilly region of Tennessee more than 50 miles away.
Diblin said he rounded up a volunteer to serve as co-pilot and the two men flew to Tullahoma, where a thick cloud cover had created a very low ceiling. "I had to make a very careful approach," Joe said.
Descending below the clouds, he saw that the plane was aligned with the landing runway. He landed, then taxied over to a building, and "a large number of people came out to the airplane." They included the mother and father of an American flier who had been killed when his B24 was shot down during a mission over Europe.
A Tullahoma officer told Joe that the flier's "mother wants to see and go in a B24." Her son had been a navigator. When Joe told her that "the navigator sat up front in the nose," she said that she wanted to see where the navigator sat.
"I took the mother up front and sat her in the same seat that the navigator sat in," Joe said. "With tears in her eyes, but under control, she looked all around and finally said, 'So this is where my son served his country and died.' She turned to me and said, 'Thank you, sir. Now I am at rest.'
"She took my name and address. She wrote me every year at Christmas for as long as she lived. I was so touched."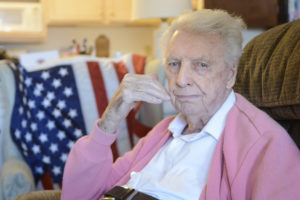 Diblin reflects on decades of bittersweet memories
Born on July 20, 1917, in Trenton, N.J., Joseph A. Diblin was the son of Sarah and George Diblin. He grew up in Hightstown, a rural New Jersey community where his father was chief of police.
As a teenager, Diblin often went to the movies. In Hightstown, the local theater ran newsreels before showing the feature film. Watching the newsreel one day, Diblin was surprised to see footage of his father performing stunts on a motorcycle.
Diblin explained said that his father drove a motorcycle "while serving in the New Jersey State Police." He had become known as a trick rider, and "one holiday weekend he was asked to put on a performance during a parade." A photographer filmed the performance, which made the Fox Movietone newsreel.
In high school, Diblin got heavily involved in sports. "I lettered in baseball, basketball and soccer," he said. One day, two college representatives came to see him. "They offered me a basketball scholarship to Bucknell University," he said.
When he arrived in Lewisburg in the fall of 1936, "Bucknell gave me a job that helped me pay for my food," he said.
Diblin majored in journalism with a minor in education at Bucknell. He also played basketball, track and soccer. "I was captain of my soccer team my senior year," he said. He went out for football, which his high school had not offered, but an unrelated injury kept him off the team.
He graduated in 1940, and by April 1941, he had enlisted in the U.S. Army Air Corps and was being trained as a flight instructor at an air base down South. After 10 months of teaching other soldiers to fly two-engine planes, Diblin decided that he wanted to go on bombing runs in bigger planes.
"I volunteered to go on four-engine bombers, so what did they do? They kept me as a flight instructor," he said.
Did he ever serve overseas?
"No. they wouldn't let me go."
The Army Air Corps did, however, let him move up, becoming a flight instructor for men learning to fly four-engine planes, such as the B24 Liberator. By 1945, Diblin had become the chief flight instructor of four-engine planes at Smyrna Army Airfield, near Nashville, Tenn. He held the rank of captain.
Diblin was the oldest of three brothers, all of whom served in the military during World War II.
His brother Donald enlisted in the U.S. Navy. "He was a diver," Diblin said.
Immediately after the Japanese aerial attack on Pearl Harbor in December 1941, Donald was flown to Hawaii. Assigned to a rescue mission, he dived down the side of the sunken U.S.S. Arizona and used an acetylene torch to cut a hole in the side of the battleship in order to go inside the shrunken vessel to look for survivors. "He cut into a pocket of gas, which exploded," Diblin said.
Donald survived the war, but died several years later because of his injuries.
The U.S. Army drafted brother Eugene toward the end of the war and sent him to Asia. He was on guard duty one night when he was "attacked by a Japanese man dressed as a civilian," Diblin said. Eugene's injuries were so severe that the Navy discharged him, and he died within a very short time.
Early in the war, Diblin married a Lewisburg girl, Marijane Aumiller.
"She was pretty as a picture," Diblin said. "Her daddy had a bakery in Lewisburg."
They got married at the Smyrna airfield in Tennessee, "and she stayed with me until the end of the war, and then we came back to Lewisburg," Diblin said.
The Diblins had one child, a son named Charles. "We called him Chuck," Diblin said. Chuck was 19 when he was killed in an automobile accident near Selinsgrove.
Marijane took the son's death very hard, and died a year later.
Diblin eventually married again. His second wife, Barbara, taught social studies in the Lewisburg public schools and had three daughters from a previous marriage. In time, Barbara lost her vision, and then developed Alzheimer's disease.
"She was a dear," Diblin said.
Barbara died a number of years ago, but Diblin keeps in touch with her daughters.
"The eldest just retired from the CIA," Diblin said. "The middle child teaches pre-school and elementary pupils. The youngest is a nurse. They all call on the phone once a week," Diblin said.
His post-war career included stints as a teacher, a coach, a personnel manager, a test pilot and a flight instructor.
With his 99th birthday approaching, Diblin looked back over several decades of writing newspaper columns about WWII and military veterans. He has clipped out each one and methodically filed it away in a scrapbook.
Diblin is looking forward to voting in the 2016 presidential election. "I vote in every election," he said. "I never miss."
Diblin is very future-minded, said Barbara Spaventa, a Northumberland friend who visits him every week. Several years ago, he purchased a computer and taught himself how to use it. Now he writes his weekly newspaper column on the computer. He has his own vehicle and drives to the supermarket and wherever else he needs to go.
His long-term memory is sharp and provides him with precise details of people and events from half a century ago. He keeps a schedule for upcoming events.
"He is very punctual and usually extremely early," she said.
Joe is also chivalrous. At mealtime, "he won't sit down until all the ladies have been seated," Barbara said. "He holds the door for you, even at my protest because sometimes I would like to hold the door for him."