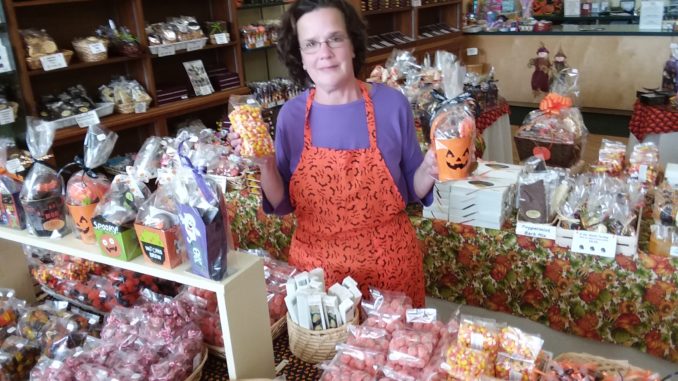 Let Thanksgiving have its pumpkin pie and Christmas its cookies. At Halloween, it's all about the candy.
Stop in at Purity Candy Company in downtown Lewisburg, and you'll feel like you stepped into a kid's plastic trick-or-treat pumpkin. Baskets of Halloween-themed candy crowd the orange and green-covered tables.
"I don't know that there's a favorite," said Lyn Houtz, clerk at the store.
But one popular choice is Gummy Bears. Gummy Worms, too, for that matter, in orange, yellow and black.
"Halloween Gummy Bears or Worms. Anything gummy for Halloween," Houtz said.
A few miles south, at Heimbach's Country Store, in Selinsgrove, Linda Martin, who handles candy orders for the business, has found the same thing.
"Jelly Pumpkins and Gummy Pumpkins," she said when asked for the top sellers.
Not candy corn?
"I think people buy that to decorate for Thanksgiving," Martin said, mentioning turkeys made out of candy corn.
"It's a staple at Halloween, but it's not a best seller." Sue Heimbach, owner of Heimbach's Country Store, shrugged. "Life is full of mysteries."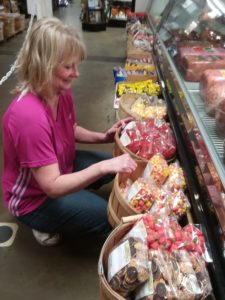 Sweet debate
Enjoying a sunny fall day in downtown Lewisburg, a group of students sat at an outside table waiting for their teacher. When asked about their favorite Halloween candy, Cameron Alexson, of Northumberland, said he prefers red licorice. His friend, Dale Keister, of Winfield, opted for the fruity flavor of DOTS.
At nearby Bucknell University, co-workers on their lunch break disclosed their favorite Halloween candies. Mike Daddario, of Sunbury, goes for Reese's Peanut Butter Cups in any flavor, milk, dark or white chocolate. Linwood Hill, of Milton, prefers a simple Hershey's Milk Chocolate Bar. Dave Wagner, of Mifflinburg, said his top pick is a Milky Way bar.
But Stefani Sassaman, Port Trevorton, was less particular.
"Anything I can get to that my kids haven't gotten to first," she said with a smile.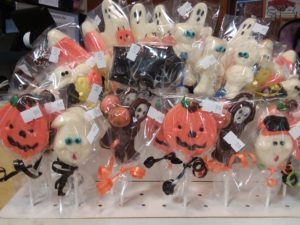 Fall-based theme
Beyond the Gummies, it's customer's choice at Purity Candy Company. Candy corn is always good, but so are chocolate pops in the shape of pumpkins, scarecrows, ghosts and cats. Eye-catching, hollow chocolate Jack-o-lanterns and ghosts are perfect for the more discerning candy enthusiasts. And colorful Halloween boxes in the shape of pumpkins, caskets and haunted houses make a nice appearance in select trick-or-treat baskets.
"You always have special little ones that get something extra when they come to your house," Houtz said.
Along with its baking supplies, gifts and deli items, Heimbach's offers an assortment of old standby chocolate bars — Fifth Avenue, Payday, Mallo Cups, etc. — along with melted chocolate candies, lollipops and chocolate-covered graham crackers and nonpareils with autumn-colored sprinkles. Pumpkin spice-covered pretzels sold well, although mostly to female customers. The men tend to prefer simpler flavors, Martin said.
"Reese's Peanut Butter Pumpkins. That's a staple at Halloween, too," Heimbach said. "You have to have those at Halloween."
Houtz's favorite candy as a kid was a chocolate bar, but now she prefers the Sour Pumpkin Gummy Heads.
"Oh, yes," she said. "Those are good."
And the expression, "happy as a kid in a candy shop," still rings true.
"You do get a lot of kids that come in with their parents," Houtz said. "And they'll get them a Halloween treat."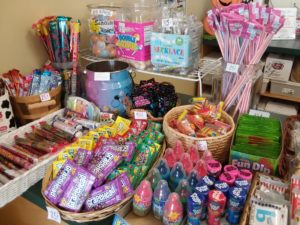 Picking a favorite
What's your favorite Halloween candy?
Facebook readers didn't hesitate to sound off. Love candy corn? You've got company here. Hate candy corn … guess what? You've also got company here!
Candy corn and Reese's Peanut Butter Cups seem to be our chosen way to say Happy Halloween, but we're also happy to snack on just about any other confection.
Read on to see if your favorite candy was mentioned.
• Debra Changary Inch, formerly of Selinsgrove: "Candy apples or candy corn."
• Sandy Berge, of Kratzerville: "Candy corn (Husband Harry prefers Reese's Peanut Butter Cups)."
• Bonnie Benfer, of Kratzerville: "Candy corn or Reeses Peanut Butter Cups."
• Ellie Herman, of Winfield: "Candy corn."
• Betty Brouse, of Selinsgrove: "Candy corn."
• Peggy Peeler, of Selinsgrove: "Milky Way!"
• Scherry Tibbins Moore, of Selinsgrove: "Love my sugar. Candy corn!"
• David Cooney, of Mifflinburg: "Miniature Snickers … by the dozen."
• Marta Silver Marks, formerly of Winfield: "Autumn mix of pumpkins, candy corn, etc."
• Susan O'Connell, of Selinsgrove: "Hershey's Miniatures."
• Kathleen Ferster, of Mount Pleasant Mills: "Chunky Tootsie Rolls."
• Martha Witmer, of Laurelton: "Snickers bar and candy corn."
• Kathleen Cook Shemory, of Mifflinburg: "Candy corn."
• Lisa Miller Deitrick, of Sunbury: "Milk Duds!"
• Judy Weidner, of Mifflinburg: "Love it all!"
• Larry Smith, of Selinsgrove: "Reese's Peanut Butter Cups. They go great with any holiday!"
• Kristy Kinder Lettich, formerly of Shamokin: "Mounds bars."
• Judith Newell Cope, of Selinsgrove: "Milk Duds — yum."
• Kathy Aucker Hassinger, formerly of Selinsgrove: "Not candy corn. Gross! Reese's PB Cups frozen!"
• Lori Heimbach, of Winfield: "Midnight Milky Ways."
• Marcia Cooney, of Mifflinburg: "Tootsie Rolls, jawbreakers. Used to be those wafer saucers with beads inside. Hershey Bars, Bazooka or bubble gum pieces."
• Bob Ritter, of Selinsgrove: "Linda and I like Reese's Peanut Butter Cups."
• Cowell Gemberling, of New Berlin: "Milky Way Midnight, candy corn pumpkins, Peanut Butter Cups"
• Nate Carver, of Pittsburgh: "Skittles!"
• Stacy Mostovoy Bricker, of Philadelphia: "Anything with chocolate and peanut butter- Reese's."
• Amy Simon, of Winfield: "All of it."
• Cam Kinzey, of Selinsgrove: "Reese's Fastbreak!"
• Charlene E. Inch, of Selinsgrove: "Not that I should eat any of it, but Reese's PB cups! Something is eventually going to kill me, so I might as well go with a smile on my face from PB and chocolate!"
• Chris Meiser, of Freeburg: "Hershey's Miniatures and 3 Musketeers bars"
• Crystal Lea Bucher, of Middleburg: "Candy corn, love it. But Milk Chocolate Hershey's Bars will always be my favorite!"
• Leslie Orren Herman, of Winfield: "As a kid, PB cups. And they weren't miniature back then! But in the 90s, what did I steal from my kids' bags? Snickers (and they WERE miniature). They rarely give the full size bars anymore. But then kids don't work for it anymore."
• Daniel Lee Loss, formerly of Mifflinburg: "Can't stand candy corn. I like peanut butter cups and Snickers."
• Susan Marks, of Winfield: "Anything as long as it has chocolate in it."
• Cynthia Milheim Young, of Danville: "Mini Snickers."
• Kathie Mitchell, of Milton: "Candy corn and candy pumpkins."
• Nisha Orren, of Selinsgrove: "Pixie Stix!"
• Betty Hollenbach Blyler, of Lewisburg: "And the winner is: Reese's Peanut Butter Cups."