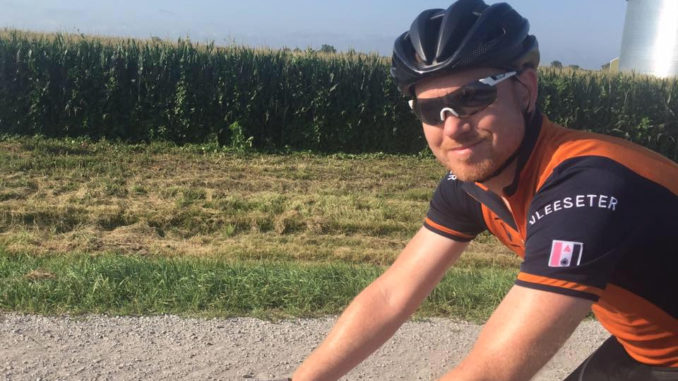 The shortest distance between Matt Pryor's Selinsgrove home and Bingaman and Son Lumber, in Kreamer, where he works, is 6.5 miles.
The route he takes when commuting to work on bike is usually longer than that — a route he knows well since he pedals it nearly every work day, year-round.
"Maybe once or twice a month, I'll drive in for logistical reasons," he said.
In commuting via bike alone, Pryor estimates that he logs around 3,600 miles per year and has done so for more than a decade.
"My kids have gotten to the point where they think it is weird when I don't ride my bike to work," Pryor said.
Meanwhile, George Weller, of rural Middleburg, splits time as a counselor with Gaudenzia traveling to Lewisburg and Middleburg. Commuting two to three times per week, it is a 42-mile round trip for him to Lewisburg and 16-mile trek to and from Middleburg.
"It was hard at first, but after sticking with it and getting lots of encouragement from friends, it became a lot easier," he said. "Hills that once seemed impossible became fun. I'd challenge myself to see how fast I could get up them."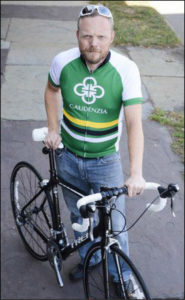 Benefits to biking
Routinely riding a bike provides ideal cardiovascular exercise.
"I was very out of shape and 35 pounds heavier than I am today," said Weller. "Commuting to work when possible on my bike has made a real difference."
For Pryor, some of the biggest benefits are psychological.
"I am able to check out mentally on a ride and either get in the game on the ride into work or burn up the day's stress on the way home," he said. "It also gives me a magnificent transition zone between my work life and my home life. My family notices a big difference in me on the days I drive instead of ride."
Not that the health aspect of commuting via bike is lost on Pryor.
"It has helped me maintain my body weight and healthy blood pressure over the years," he said. "It allows me to be an active participant in family activities we all enjoy, such as canoeing, hiking and exploring."
Regularly commuting to work has plenty of financial pros, as well.
"For more than 10 years, we had only one car until a second one was gifted to us. Even still, I only have to fill the second car every other month or so," he said. "I'll spend a few hundred dollars each year on gear, such as for worn-out parts, new bike-specific clothing, etc. But compared to a car, it's a minimal outlay."
Weller admitted that he has noticed another benefit to biking regularly to work — the people and causes he has met along the way.
"From benefit rides for great causes to the group of close friends with whom I get to talk about life while on the bike — it has been a real blessing," he said. "There is a really vibrant cycling community in this area, full of great people."
Scientifically supported
A recent study suggests that bicycle commuting, like recreational cycling, is not only associated with a lower risk of serious disease, but with a longer life as well.
For that study, researchers from the University of Glasgow followed more than 263,450 commuters in England, Scotland and Wales for an average of five years. The group was composed of 52 percent women and 48 percent men ages 40 through 69.
The researchers divided the participants into five groups based on how they got to and from work on a typical day — walking, cycling, riding in a car or on public transportation, mixed walking (a combination of walking and riding) and mixed cycling (cycling and riding).
They found that compared with riding to work, bike commuting was associated with a lower risk of being diagnosed with cardiovascular disease or cancer, or dying of any cause during the five-year period. Walking was associated with a lower risk of developing cardiovascular disease.
"The benefits of regular physical activity are well documented, but there have been concerns that traffic crashes may negate the benefits from commuting by bicycle," said Walter Willett, M.D., Dr.P.H., professor of epidemiology and nutrition at Harvard T.H. Chan School of Public Health, and a bicycle commuter himself. "This study is important because it confirms, with a much larger sample size, previous findings from other countries. Moreover, it shows that the benefits strongly outweigh the risks."
Joining the commute
If you're thinking of biking to work, the following can help to make your commute safer.
• Protect yourself. Wear a properly fitted helmet and clothing that is appropriate for the weather. Wear reflective gear at night and in cloudy weather.
• Maintain your bike. Make sure your bike fits you and that it is fit for road conditions. Mount a white light on the front of your bike and a red light on the back for night cycling.
• Learn and follow the rules of the road. Most states require bicyclists to follow the same rules as drivers of other vehicles. You can find the rules of the road for most states here.
• Communicate with those who share the road with you. Make eye contact and use hand signals to indicate what you're about to do. The simplest gestures, like extending your right or left arm out to signal a turn, can avert a collision.