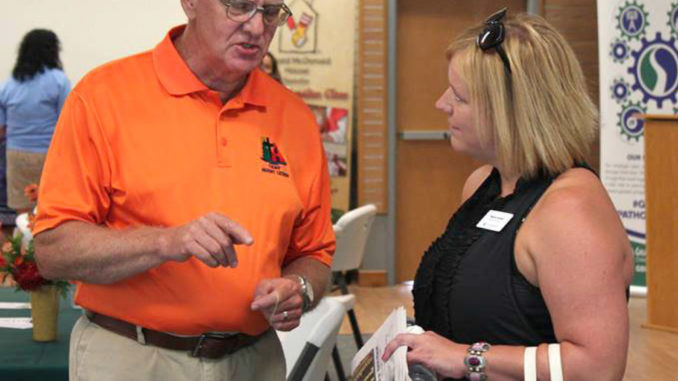 You have to attend a party or event. You don't really feel like it. You don't know many people there. But you can't get out of it … so how can you make "small talk" and avoid that awkward feeling of standing there with nothing to say?
"The first thing you should do, before you step in the door, is put a smile on your face," said Freddi Carlip, Lewisburg. "Throw your shoulders back. Tell yourself how much you're going to enjoy the evening."
Carlip, social columnist for The Daily Item's "On the Scene," attends dozens of events throughout the year and looks forward to every one she covers. But, like many of us, she also has to squelch her natural introverted tendencies and finds it helpful to remember that others might be doing the same.
"You're not the only one there who is a little bit on edge or uncomfortable," she said.
People might be surprised at how some Valley business leaders struggle with social situations.
"This is something I actually think about doing," said Keri Albright, past president/CEO of the Greater Susquehanna Valley United Way, adding that people think she's outgoing, though she's really not.
To break that social
awkwardness barrier when arriving at an event, she searches for the host or person in charge.
"I'd go up to the person organizing the event, say hello, and just thank them for having me," Albright said. "That often leads to other conversations (with other people)."
"Most of us are basic wallflowers," said David Herbert, past chairman of the Greater Susquehanna Valley Chamber of Commerce. "You've got to be sort of forward. You've got to take the initiative to do it. You've got to put on a happy face sometimes and introduce yourself."
As the wife of Susquehanna University's former president, L. Jay Lemons, Marsha Lemons is no stranger to must-attend functions.
"I almost always find that when I don't want to go to an event or social engagement but have to go, I have a good time," Lemons said. "Sometimes we just need to push ourselves.
"Now once you get there, what do you do? It's easy to hang back and wait for someone to approach you, but I find the best way to get comfortable right away is to walk right up to someone, shake hands and introduce myself."
Carlip gazes about the room for a familiar face. If there aren't any, she finds someone who looks approachable then introduces herself and mentions the theme of the event.
"That's your perfect opening," she said. "Introduce yourself. Talk about the event or cause and why you're there."
Kendra Aucker, president and CEO of Evangelical Community Hospital, in Lewisburg, has found an advantage to living in our small Valley: we share connections. Keeping informed of local happenings helps her to find connections.
"I like to begin or end the day with the newspaper," Aucker said. She follows local sports and reads about school activities, community issues, even obituaries. "You learn the connections between people."
Other tips on socializing:
• "The best advice I ever heard is, people will always think you're the nicest person on the planet if you just listen to them," Albright said. "Just ask people questions about themselves."
But avoid the cliché question of where a person works. Albright asks, "How do you spend most of your time?" They might talk about parasailing, grandchildren, gardening, even work.
"I listen," Albright said. "Because I really don't like to talk about myself. I'm happy just to ask people about themselves."
• At a dinner table, sit down with a smile on your face, introduce yourself, and tell people where you're from, Carlip advised. "There will be a commonality. That's how you get the ball rolling."
• "If possible, find someone to go with you," Lemons said. "If my husband cannot attend an event with me, I often ask a friend."
• "Life is about relationships," Aucker said. "Sometimes you just have to step a little out of your comfort zone. Once you start doing it, you realize it's not something you have to be afraid of. You connect with people."
A positive attitude, a mental list of conversation topics and an eagerness to learn about other people will not only get you through that awkward social event but also make it enjoyable.
"It can be done, and it can be fun," Carlip said.
"The fun part is the little stories you hear when you meet people," Herbert said. "The connections you make."