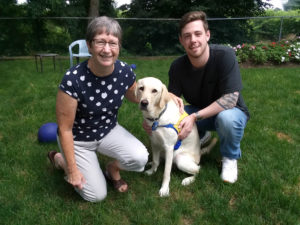 The question the Peeler family of Selinsgrove hears most often about raising puppies to be service dogs is, "Isn't it hard to give them up?"
"It's really not," said Chuck Peeler, 22. "Especially after the first time. You come into it with the mindset, 'This isn't my dog.'"
"And you know they'll help someone," added his mother, Peggy Peeler.
In the past six years, the Peelers have raised four puppies for Canine Companions for Independence, based in California but with a regional facility in New York. CCI sends puppies — usually Labrador retrievers or Labs mixed with a bit of golden retriever — to families who agree to socialize the dogs and teach them basic commands. After 18 to 24 months, the dogs return to CCI for training before being matched with a person in need.
Short-term solution
The Peelers ventured into puppy raising when Chuck, then a junior at Selinsgrove Area High School, wanted a puppy of his own but knew he'd be leaving soon for college. Puppy raising provided the perfect solution, which his parents, Peggy and Tom Peeler, embraced.
"We all loved it so much that we kept going even after Chuck left for college," Peggy said.
Chuck's dog, Putty, was eventually matched with Amy, a woman confined to a wheel chair. Shubert, the Peeler's third dog, works in an occupational therapy group in Boston, where his owner told the Peelers, "Shuie's job is to give and receive love."
The Peelers are now training Metro, their fourth dog. Like the others, he sometimes goes to class at Susquehanna University, where Peggy and Tom teach biology.
The Peelers affectionately refer to their second dog, Romo, as their flunky — he was too excitable for service work but has become a permanent member of the Peeler family. Half of the puppies actually graduate, Peggy explained. The flunkies, though, make excellent pets.
Stringent expectations
The Peelers are happy to be part of CCI's program. "The people at CCI are just phenomenally nice," Peggy said.
Puppy raisers must agree to strict rules, like not giving the dog "people food" or letting it jump up on the furniture. They pay for food, veterinary care, neutering and obedience classes. The Peelers take Metro to Flying High Dog Training, led by Marsha Vesnefskie in Paxinos, where he learns to interact with people and other dogs.
Taking Putty back to New York for the rest of his training brought both heartache and pride, but at the graduation ceremony, Chuck officially handed Putty's leash to Amy.
"It was definitely hard for me," Chuck said. But by then he was in college and had no extra time for a dog.
The Peelers did get to know Amy before the ceremony and continue to communicate with her today.
"It's not like you're handing (the dog) off to a stranger," Chuck said. In fact, the Peelers plan on watching Putty later this month while Amy travels.
Programs similar
Like CCI, Guide Dogs for the Blind, based in California and Oregon, uses puppy raisers to socialize dogs before sending them on to their months-long training.
"They're trained to stop at elevations (curbs, stairs, etc.)," said Karen Woon, vice president of marketing, Guide Dogs for the Blind. "They're trained to go around obstacles (people, newspaper boxes, etc.). They're trained to avoid overhead obstacles (like branches)."
They're also taught "intelligent disobedience," refusing to allow their owner to continue if anything is amiss.
GDB graduates 300 teams per year and relies on the generosity of their donors to enable them to offer dogs at no cost to their owners.
"We provide unparalleled support to our graduates," Woon said. "We're always there for them after they graduate."
She noted that people sometimes think they have "too much vision" to eligible for a guide dog, but all that is required is a legally blind diagnosis. Guide dogs can give visually impaired people companionship and more independence.
"People talk about being able to fly with a dog," Woon said.
Perfect partnership
"With a cane, we are constantly catching obstacles and having to stop to assess a possible danger," said Shawn Ocker Mifflinburg, diagnosed with Retinitis Pigmentosa. "Whereas, with a dog we simply walk with confidence knowing the dog is always assessing our surroundings."
She is now working with her second guide dog, Pixar, and appreciates the training he received through GDB. When she trained with him, "It was really training for me and for us to work together. I had to learn verbal commands, hand gestures and footwork."
Pixar gives Ocker the independence and confidence that a cane or even a walking assistant cannot. Like Putty, Metro and all service dogs, Pixar started out with a family willing to love and raise him from puppyhood to training age.
"I was glad (Putty) ended up graduating and getting matched with someone," Chuck Peeler said, and added, "It's much more rewarding than it is difficult."
"Pixar is aware of all sides of me," Ocker said. "A sighted guide is not necessarily aware of my movements. (Pixar) knows how long my stride is. He knows how tall I am. He knows how wide I am."
Using the intelligent disobedience he was taught, he will stop and not let Ocker continue if she's about to step toward danger.
"With Pixar I feel more confident," Ocker said. "I feel like I can fully see."