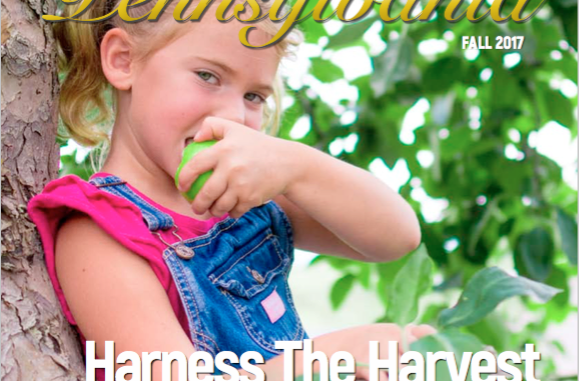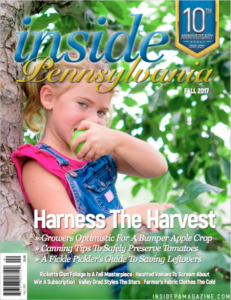 It may be mid-July, and we are all focused on all the summery activities that make this time of year so much fun, but fall isn't too far behind. Back-to-school displays remind us of that every time we walk into a local store.
Inside Pennsylvania staff are busy preparing our fall issue, which will be out in early August. It is an edition devoted to the harvest season in the region — with stories about the upcoming apple harvest, tips to best preserving your garden-ripe tomatoes, some suggestions on how to react when leftovers leave you in a picking situation and a look at a Perry County farm that produces a special fabric that is marketed around the world.
We'll take you to Ricketts Glen, the state park famous for its waterfalls and for being the perfect canvas for enjoying the fall foliage season that will be here before you know it. You'll meet Ashley Leitzel-Reichenbach, a local graduate who's found her footing on Broadway. Cindy O. Herman shares five haunted venues that will leave you screaming for more. There are a wide variety of stories to enjoy.
To help get you pumped up about the issue, here are 25 questions that make up our next issue's quiz … those who complete the quiz with the proper answers and send those responses with their name, hometown and phone number to this email, will be entered in a drawing for a free one-year subscription.
What is the name of the girl on the cover of this issue?

Who is the "landlord" of Knoebel's Amusement Resort's award-winning Haunted Mansion?

To fill seven quart jars with canned tomato pieces, how many pounds of tomatoes will you need to start with?

What is the name of the pigment that is behind the red, orange and yellow colors in our annual fall foliage display?

How many angora goats live at Glen Cauffman's Pure American Naturals Perry County farm?

Who submitted a photo of a toad in our #ValleyIllustrated feature?

Depending on configuration, up to how many pounds can the 2017 GMC Canyon tow?

What common PA apple variety is a combination between a McIntosh and a red delicious?

What song did Ashley Leitzel-Reichenbach sing in the fourth grade that left at least one of her classmates with "chills?"

According to an article referenced in this issue, American families throw away an average of how many pounds of food per month per person?

Freezing temperatures inhibit the production of what color pigment, according to naturalist Jon Beam?

How many feet of elevation does someone climb while hiking the 7.2-mile Falls Trail at Ricketts Glen?

What date will the Alonzo King LINES Ballet perform at Bucknell's Weis Center this fall?

How many trained actors are a part of the Field of Screams attractions near Lancaster?

In which town will the Gem Miner's Jubilee be held?

Where does the mohair collected at Pure American Naturals get tested for softness?

Name one variety of tomato that is ideal for canning.

Who is the Design Editor of Inside Pennsylvania magazine?

What color do Black Gum tree leaves turn in the fall?

How many deluxe cottages does Ricketts Glen offer its visitors?

How many miles per gallon does the GMC Canyon's diesel engine reach during highway driving?

What is the earliest apple variety offers by Dries Orchard in mid-August?

Where did Ashley Leitzel-Reichenbach work while attending Susquehanna University in Selinsgrove?

The Pine Barn Inn offers wedding seating for up to how many people?

What would some PA Dutch people throw on the stove to get a house smelling better for company?
Looking back to the May issue of the magazine, we'd like to congratulate Betty Lenker, of Hunter's Station, for being selected as our winner. The winning responses to last issue's quiz included:
11

89th Annual Jubilee Day
1-30 seconds
Wireless cellphone charging dock
Oxalic acid
1995
Design-build process
Mirrored glass
Cooked quinoa
300
275
Honeysuckle family
35 years
David Wisnia
Pinhole
More than 40
Back them up
Professional jazz musician
Gymnastics
Penn State University
60
August 17
Pokeberries
Skyliners
Kale and Kane