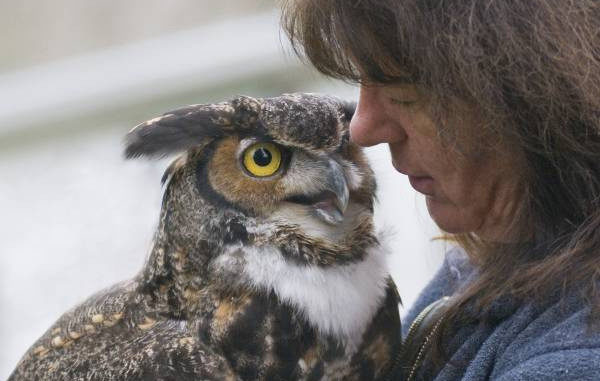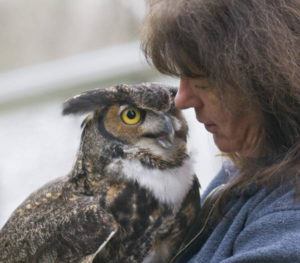 It's likely you might not think about what you would do with an injured, diseased, displaced or orphaned wildlife creature until you stumble upon one yourself.
That's what happened to Tracie Young, of Washington Boro in Lancaster County.
Her heart was first gripped by the news of the Gulf Oil Spill.
"I was totally devastated seeing those animals covered in oil," said Young, also a master scuba diver. "I knew I had to do something."
She worked to raise funds and donations to send to the site and got her name added to a waiting list of individuals to provide hands-on help; she even got permission from her work for paid time off to go.
When she finally received a call back, she was told that in order for her to help, she needed to be a licensed wildlife rehabilitator.
"I was like, 'a what?'" she said.
Around that same time, she and her husband were driving when they saw a snow goose get hit by a car. The car kept driving, but Young had to stop. But as she stood by the goose, she had no idea where to turn for help.
"It took me three days to find someone to help me with this animal," she said, "before somebody called me back."
Learning that it was illegal to keep a wildlife animal in her home, she finally ended up driving the goose an hour and a half away to Red Creek Wildlife Center in Schuylkill Haven to get the help it needed.
Soon after, she started taking classes at Red Creek to become a licensed wildlife rehabilitator herself.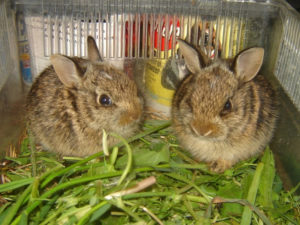 Human interruption
"There are those that say not to interfere with nature, to let nature take its course," said Peggy Hentz, founder of Red Creek Wildlife Center, Inc. "But 90 percent don't come into us from nature. We get the ones that are attacked by cats, or the mother was hit by a car or electrocuted, or a baby falls out of a nest onto cement rather than on a soft pine floor."
"Life has been interrupted by people, and we try to uninterrupt it and give them a second chance," she said.
About a third of the 2,000 animals that come through Red Creek each year are baby bunnies. The next most common are baby squirrels.
They typically are found close to urban areas, where life is riskier for the parents. The No. 1 threat to birds of prey, she said, are cars.
Young said with more construction comes more disruption of animal habitats.
"A lot of it is collision between wildlife and man," she. "These animals just don't know where to go.
Raven Ridge has had as many as 80 baby squirrels at one time. They and baby bunnies are commonly brought to the center in the springtime, when people are cutting down trees and destroying nests.
Jennifer Mattive, of T&D's Cats of the World in Penns Creek, has been a licensed wildlife rehabber for about five years.
"The animals coming in are compromised in some way," she said. "There is usually a human involved."
The animals she sees typically require critical care.
Mattive is able to care for songbirds and mammals, but like most rehabbers, she is able to accept any animal in need of help, get it triaged, and then if necessary, send it to an appropriate location to get specialized care.
Becoming a wildlife rehabber
According to Pennsylvania Game Commission communications director Travis Lau, the commission is "mandated under state law to protect all of Pennsylvania's wild birds and mammals"
As part of that wide purpose, he said, the commission makes sure that any licensed rehabbers accepting wild birds and mammals are compliant with the requirements of their permits.
The role of the U.S. Fish and Wildlife Service is to regulate rehabbers that accept migratory birds or any federally-listed threatened or endangered species.
"Pennsylvania's wildlife is a resource, and injured wildlife sometimes can be treated and returned to the wild," Lau said. "Not just anybody can do this. The survival of wild animals is very much dependent on their instincts, and their fear of humans is an important one.
"Wildlife that come in contact with people quickly can become habituated to humans, and that's almost always bad for both the animal and any people it might encounter from there on out," he added. "Rehabbers are professionals who are trained to return wild animals to healthy conditions without habituating them, returning the resource to nature."
The role of a wildlife rehabber is always a temporary one for each animal that ends up at their facility.
"The important element here is all of this is done in an effort to place wildlife back in the wild," Lau said.
Young said the regulations in Pennsylvania are strict, and it took her five and a half years to finally become licensed.
She has been operating Raven Ridge Wildlife Center for the past two years, along with the help of a couple of dozen volunteers.
"It's hard work," she said, "365 days a year, around the clock. A lot of people just don't want to commit to that."
"You're either in it for the long haul, or you're not," she said. "It's dedication."
Out of the 36 rehab centers in the state, she said she is one of only 13 able to care for rabies vector species, such as skunks, raccoons and bats. And as far as taking in mammals, Raven Ridge is the only one in a seven-county region.
Dependent on donations
Young admits that not only is the work itself tiring and difficult, but not receiving any government funds and relying completely on donations, and not knowing when they might come in, or if it would be enough to keep the center open, is trying as well.
With donations down currently, she has gotten seasonal work as an assembler for Harley Davidson.
"If we can save more animals and be there for the animals and the public, then I'll do what I need to do," she said.
Hentz works to educate the public about the importance of wildlife rehab work.
"It offers a humane, legal service so they can help the animal their heart went out to, and do it legally, and not expose themselves to risk," she said. "It's a human public service as much as it is an animal service."
Rewarding work
Mattive said she loves being able to serve in this way.
"It's nice to have a place for people to take the animals," she said, but then added, "The biggest reward is when you can see them run or fly or swim away. Get them back in the wild, because that's the goal."
Hentz agrees.
"As a child, I was drawn to helping animals," she said. "As I got older, those opportunities came along like the baby bunnies and baby robins. I knew if I was going to be able to help them long-term, I had to get licensed."
For 30 years, she worked hard to get her dog grooming business successful enough so she could buy property and do wildlife rehab work. Ten years ago, she closed the grooming salon and now does wildlife rehab and education full-time.
Her favorite part, she said, is "setting an animal free. Giving an animal a second chance."
And getting others excited about it.
"I also love going to schools and teaching kids about wildlife and trying to get that passion instilled in our next generation, which is so important."
Educating the public
Hentz founded Red Creek in 1991. The center currently employs three licensed wildlife rehabilitators and has 15-year-round and 15 intern volunteers.
Hentz also serves on the Wildlife Rehabilitation and Education Council for the game commission and runs education classes on how to become volunteers or full-time rehabilitators. One of the classes even focuses on how to become an established nonprofit.
"One of our goals is not just to show them how to become a wildlife rehabber, but help them become successful enough that they stay open," Hentz said.
Young said she also enjoys the opportunity to educate the public, getting kids away from their electronics, and allowing them to see the animals up close, learn of the animals found in their region, and putting a kibosh on old wives' tales, such as never touching a baby bird because the mother won't come back. "Birds can't smell," she said simply.
She is also passionate about saving bats, each one of whom eats 1,200 insects an hour. Their numbers have been dropping due to white-nose syndrome. Most calls in the winter are because of bats being found in warm houses.
"Please don't be afraid of them," she said. "They're more afraid of you."
She also always advises people call a wildlife rehabber before trying anything they might find on the internet. Rehabbers can often give advice on how to reunite babies with their moms, rather than bringing them to a rehab when it's really not necessary.
"Mommies do really want to take care of their babies," she said.
Mattive said a common instance she faces are people who find fawns lying alone out in a field.
"They see this baby lying down and think it's abandoned," she said. "People don't realize that fawns do not stay with their mothers all the time. A lot of babies over the years have been stolen from their mom."
She advises you let the fawn alone for 24 hours, watching from a distance to make sure the mom comes back.
"Give them that much time to find each other," she said. "As long as it's lying down and curled and looks comfortable, it's fine."