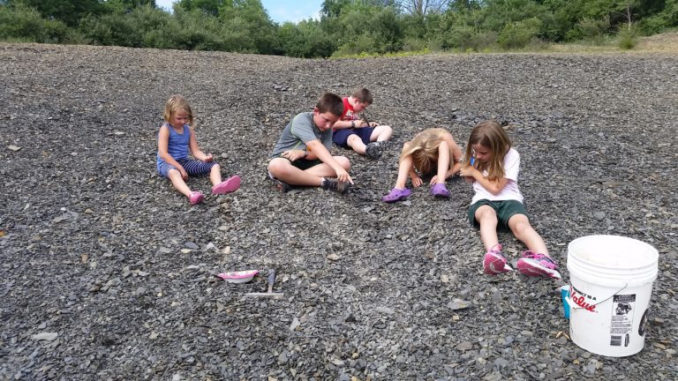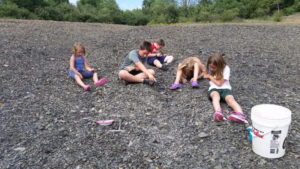 Hunting season never truly ends in Pennsylvania — it's just the species change.
Opportunities to "hunt" continue thanks to venues such as the Montour Preserve fossil pit — a nationally renowned fossil pit, it turns out, thanks to a list recently published by topvaluereviews.net of the "30 Most Impressive Fossil Sites in North America."
"Pennsylvania's Montour Fossil Pit is both a preserve and an active excavation site. Located about 230 miles northeast of Pittsburgh, the fossil pit welcomes visitors who want to play paleontologist for the day, and the site is a popular destination for local school field trips," suggests the site. "Common finds at Montour include trilobites (related to modern horseshoe crabs), pelecypods (early ancestors of clams, mussels and oysters) and gastropods."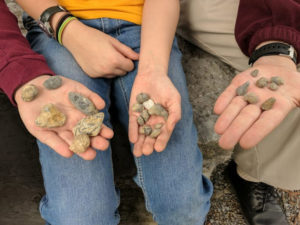 The mention was a shock for both Bob Stoudt and Jon Beam, the director and assistant director, respectively, of the Montour Area Recreation Commission, which currently oversees the Montour Preserve.
"The list has some truly impressive sites on it. It was a real surprise," said Stoudt. "At first, I wasn't sure it was legitimate, but as I checked out the comments, it became obvious that this was real."
Beam agreed.
"I was surprised to hear about the national attention," he said. "It was mentioned that our site is one of the best sites for collecting and because it is open the public, we are unique compared to many places found on private land where there is no collecting allowed."
The fossil pit has been open to the public since the beginning of the Montour Preserve in 1972, and has been a popular destination for school groups, families and fossil enthusiasts ever since.
"In fact, we have 180 kids from McCall Middle School out there today," said Beam during a Friday phone interview. "They rotate through the fossil pit and other areas at the preserve."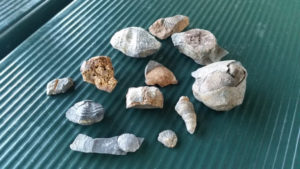 Why is the site so rich in fossils?
"I really can't say for sure. Pennsylvania was covered by a shallow sea once upon a time. I'm not sure what the depth was around our fossil pit, or if it was a location slightly off shore where a lot of critters died and ended up in sediment," Beam said. "As the shale breaks down and weathers, new fossils become exposed."
The best tool for finding fossils at the site?
"Patience," said Beam. If someone has patience, they can find fossils by picking through the rocks or maybe a little active digging. Some people are successful by slowly walking back and forth and looking for fossils that are exposed on the ground."
Beam urges safety for those who plan to check out the fossil pit.
"With kids, we ask that they don't run up and down the slope — it can become slippery and easy to fall," he said. "Shale can have lots of sharp edges. Beware when handling the rocks. Also, it is good to have eye protection — especially if you are trying to chip away at the rock. Shale can splinter, and parts can fly off."
To Stoudt, the fossil pit is just one of many unique experiences available at the Montour Preserve.
"It is an honor to be able to manage the site," he said. "I've been surprised at interest by people in the location — everyone from birders to windsurfers and so many others in between use the land. Some come from quite a distance. It is really a neat place to check out and enjoy with the family."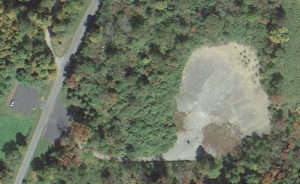 The list
Full list of the 30 Most Impressive Fossil Sites in North America, as published by topvaluereviews.net:
• Agate Fossil Beds National Monument in Harrison, Nebraska
• Ashfall Fossil Beds State Historical Park in Royal, Nebraska
• Badlands National Park in Imlay Township, South Dakota
• Burgess Shale in British Columbia, Canada
• Cleveland-Lloyd Dinosaur Quarry in Elmo, Utah
• Como Bluff in Montana and Wyoming
• Dinosaur National Monument in Jensen, Utah
• Dinosaur Ridge in Morrison, Colorado
• Dinosaur State Park in Rocky Hill, Connecticut
• Dinosaur Valley State Park in Glen Rose, Texas
• Florissant Fossil Beds in Florissant, Colorado
• Fossil Butte National Monument in Kemmerer, Wyoming
• Ghost Ranch's Museum of Paleontology in Abiquiu, New Mexico
• Glen Canyon Recreation Area in Lake Powell, Utah
• Grand Staircase-Escalante National Monument in Kanab, Utah
• Guadalupe Mountains National Park in Salt Flat, Texas
• Hadrosaurus Foulkii Leidy Site in Haddonfield, New Jersey
• Hell Creek Beds in Montana, North Dakota, South Dakota and Wyoming
• John Day Fossil Beds in Wheeler and Grant counties, Oregon
• Kootenay National Park in British Columbia, Canada
• La Brea Tar Pits in Los Angeles, California
• Lilydale Regional Park in St. Paul, Minnesota
• Mammoth Site in Hot Springs, South Dakota
• Montour Fossil Pit in Danville, Pennsylvania
• Nash Dinosaur Track Site in Hadley, Massachusetts
• Page-Larson Prehistory Site in Big Bend region, Florida
• Peace River in Arcadia, Florida
• Petrified Forest National Park in Navajo and Apache counties, Arizona
• Red Gulch Dinosaur Tracksite in Greybull, Wyoming
• Two Medicine Dinosaur Center in Bynum, Montana