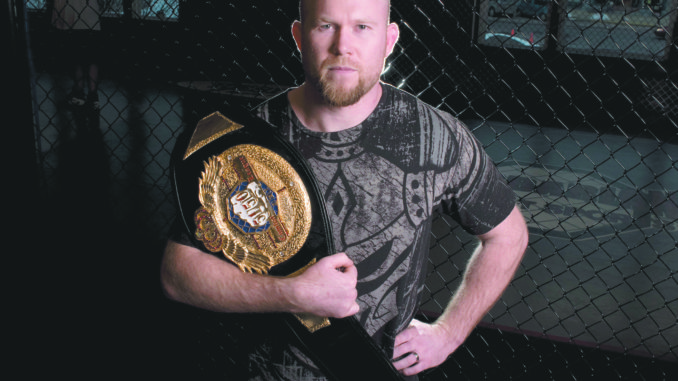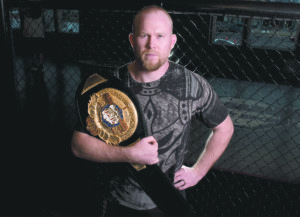 Editor's note: A full feature on Tim Boetsch appeared in the Spring 2016 issue of Inside Pennsylvania magazine. For more about the issue and to purchase a copy, click here.
The Barbarian lives in Sunbury — and has competed in various ranks of the mixed martial arts scene, including the Ultimate Fighting Championship circuit.
After starting his career regionally, Tim Boetsch (shown above in a photo by Tony Bendele photography) burst on the mainstream mixed martial arts scene with a savage performance in his Octagon debut at UFC 81 against David Heath.
He took the fight on extremely short notice and proceeded to instantly become a part of the permanent UFC highlight reel with a signature throw and flurry of punches to finish a bewildered Heath. Boetsch chose that as one of his personal favorite fights to this point in his career.
"UFC 81 versus David Heath, where I throw him on his head and finish him – that is the fight that really blew up my career," he said. "That's the fight everybody talks about. It was a very exciting fight, with a first-round finish. So that fight exemplifies how I like to fight."
Boetsch was a four-time state wrestling champion from Camden-Rockport High School in Maine and a Division 1 wrestler at Lock Haven University, also earning a degree in Criminal Justice.
When asked how a college-educated wrestler found his way into the world of face punching, he replied: "Fighting has come very naturally. I wrestled my whole life so the transition into fighting was fairly easy for me and it happened very quickly. As far as getting to the UFC level, that happened very fast for me because of the level of dedication and the way that I train."
Boetsch's professional MMA record was 6-1 prior to getting the call to the big leagues of the Ultimate Fighting Championship. His lone loss came as he took a fight against Vladimir Matyushenko on three days notice in the IFL and fought the future champion to a decision.
The Barbarian garnered a lot of attention after his performance against Heath and the term "Redneck Judo" was coined to describe his throw.
Tim saw changes in his life immediately after the victory.
"I definitely started getting more attention from the media," he said. "There was a lot of talk of being the next big thing at 205. It is how fights work – you do something impressive and then all of a sudden there is a lot of hype surrounding you. That was definitely something different I wasn't used to. That was a short-notice fight and I had done that in the past so people were really impressed that I was able to take that fight on short notice and finish it the way I did. Just a little more attention that I was used to, being in the UFC, the biggest fight league there is and winning my first fight. It was quite an experience."
Becoming the barbarian
Boetsch is, by nature, a laid back, quiet person. He is a father, a husband and relies on a strong religious faith. How does he morph from this persona to "The Barbarian?"
"I was just talking to my wife about that. It's like a split personality almost," he said. "I am a laid back, friendly person who is not aggressive at all in the real world, but when we get in the cage I can become that barbaric, violent, ridiculous person that has to do whatever to win a fight.
"It's an interesting thing. Some people might think it's crazy. I understand it and am able to do it. I'm not sure exactly how it happens but it happens pretty easily.  Growing up, I was never in fights.  You will hear about some fighters that are like 'I fought my whole life and now in MMA – I can get paid to fight.' That's not my story at all. I wrestled and had no where else to go and my buddy said, 'Hey, why don't you try fighting?' and it worked out for me."
Tim is also an avid outdoorsman who loves to hunt.
"My favorite things to hunt are deer and elk. I will bow hunt and rifle hunt. I am a huge gun fanatic, so I have lots of rifles to choose from when I go hunting. A heavy rifle is my gun of choice. I think I am ready for the Zombie Apocalypse,"  he said.
Tim and his wife, Jade, have three children: Christian, Finley and Benson. Boetsch is a strong believer that family comes first.
"The most important job we have on this planet is being good parents and raising our children right. There has to be a balance. It's difficult for me, especially with training camp with me being away," said Boetsch. "Certainly being that figure, being a good role model for your kids and teaching them how to live life correctly and do things right is very important and it's a big emphasis in my life."
Jade admits that being the wife of a professional fighter can be a challenge.
"People ask me all the time if it bothers me that he fights or if I get worked up or nervous,  I don't worry about him getting hurt because I know he will be fine. I'm more worried about if he wins or loses – only because he is away so long training to get the win and if he loses, I don't get my Tim back right away when he comes home," she said. "He'll a little down, frustrated and upset with himself over the loss. If he loses he's still a great dad and husband – just not quite the same for a couple of weeks.
"On the other hand, if he wins, we get a happy, excited, proud Tim back and all his time away training was worthwhile. So I get nervous watching the fight just for the outcome. Win or lose I'm fine watching a fight."
Jade said that supporting her husband and his dreams is very important to her.
"People ask a lot is how I deal with him being away. It's hard but this is his dream that tons of people have but he gets to live it. It's a short period of time that you are physically able to fight. Its not just Tim's dream, it's my dream for him to be the best," she said. "I know he has it in him and if my sacrifice is taking care of the kids while he is away training then that is my contribution to our dream.  Do I want to pull my hair out some days? Yes, but who doesn't? He is actually really sweet and hides cards for me around the house when he's gone."
Community support is another major factor for Boetsch as he prepares for various fights and his transformation into The Barbarian.
"I appreciate all the support and kind words I hear around town. People appreciate what I'm doing and they appreciate the hard work. I am thankful for that," he said. "I come from a place that believes that hard work is what matters. I believe that everybody in our area understands what hard work is and appreciates hard work. I come from a wrestling background. There is a lot of great wrestling in our area. We are in a place in Central Pennsylvania where hard work is not something we are scared of. I am very proud to call that home now."